A/B Testing & Optimization
Test and optimize any combination of on-site commerce experiences
Easily set up and deploy A/B/n, split, and multivariate testing across product recommendations, content, category merchandising, and more.
Prove which personalization and merchandising strategies work
Nosto gives retailers the ability to segment audiences based on almost any combination of factors, such as category affinity, brand affinity, gender, lifecycle stage, and more. These segments can then be used across the full Nosto platform to personalize product recommendations, content, category merchandising, pop-ups, and more.
Test different variations of a single page element against different audience segments
Quickly create campaign tests that optimize a single page element, such as homepage banners, recommendation algorithms, or calls-to-action.
Test multiple elements across any combination of site pages to optimize the full customer journey
Create experience tests that measure multiple elements across one or more pages. See how variations of different site variables affect each other, and drill into which segments perform the best
Automatically drive traffic to the highest performing test variation as soon as a winner is identified
Continuous Optimization is an additional capability which allows you to "set and forget" any type of a A/B or multivariate test in Nosto. It automatically allocates more traffic to the winning test variation to minimize any revenue or performance loss from underperforming variations
Surface insights into how different experiences affect sales for individual brands, products or segments
With Merchandising Insights, drill into commerce-specific insights about your customers' preferences and your catalog performance. Go beyond traditional testing analytics to determine how each test impacts sales of individual brands or products within audience segments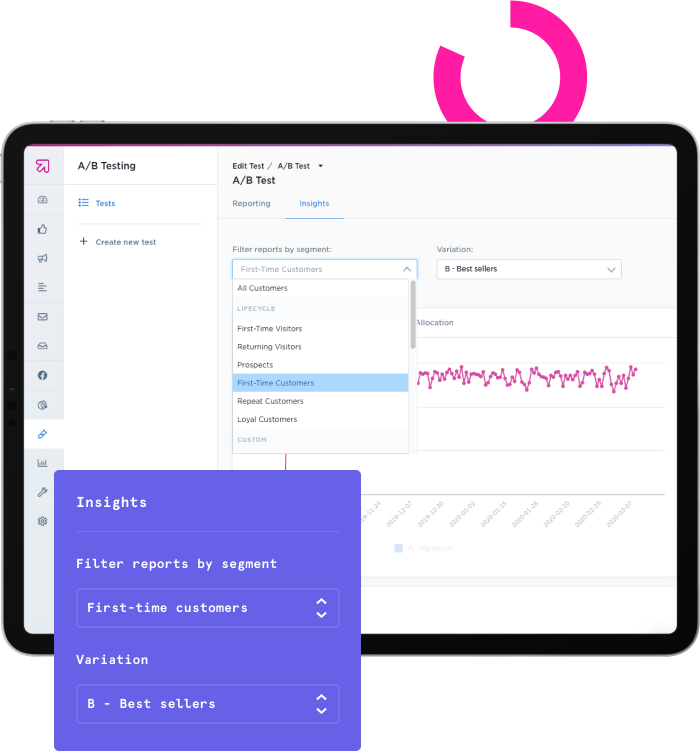 The commerce experience platform for people who run ecommerce
Break test results down by segment to optimize your personalization and merchandising strategies
It's not enough to just know which variation won a test — knowing why it won and with what customer groups is critical to making better decisions. Nosto allows you to drill down into how different segments performed on any type of test, and learn which strategies should be applied to different lifecycle and affinity groups.
Execute a wide variety of different test types across any combination of site elements, from simple A/B tests to multipage, multivariate tests
Nosto's A/B Testing & Optimization capabilities are built in to each tool in the Nosto platform and enable integrated tests of complete experiences so you can focus on growing revenue.
Set up tests in minutes and automatically optimize for the highest performing variation
With an intuitive interface and seamless integration into our other products, setting up tests and getting valuable insights is easy. Focus on growing revenue, not setting up, tracking, and maintaining tests. Plus, automate directing all traffic to the winning variation so you don't have to worry about monitoring the results.
Using Nosto, we are able to adapt our product recommendations to every individual behavior and sync with our custom audience segments to create truly unique experiences. The customers who interacted with Nosto's recommendations had a conversion rate 3.5x and an average visit value 3.8x those who didn't, and our average order value increased by 10%.".
Matthieu Galtié, Head of Digital, Volcom Europe
It was great to have a dedicated team that was accessible to us as we navigated the Nosto implementation. We're a very lean team, so whoever we partner with, must have excellent customer service when we need the support. Nosto has become an extension to our team.
Berly Isaak, Senior Director Global Marketing, LeSportsac
Nosto's A/B Testing and Optimization allowed our team to quickly test different personalization strategies and learn valuable insights. We saw an 18% uplift in conversion within weeks on a single test — it was incredibly easy to set up and deploy. The tool automatically switched over the majority of the traffic to the winning variation freeing us from having to constantly monitor test results.
Emily Andrews, VP of Ecommerce, Cynthia Rowley
Nosto has been an incredible time-saver and has expanded our customization far beyond basic product recommendations. The platform itself is very user-friendly and provides helpful, granular insights on how the campaigns are performing.
Ian Leslie, CMO, Industry West
When Stackla (Visual UGC by Nosto) introduced its Organic Influencers tool, that was great for us because we were already getting so many people asking how they could get involved. Before we had to give people lengthy responses on social media but now we can just direct them to the advocates page on our website. It saves a lot of time from a community management point of view and is an easy way for people to sign up with us. The ability to craft creative briefs has really helped us communicate more clearly and easily with our growing community of passionate customers. To see the way people are engaging with the brand in our Organic Influencer's community is very exciting.
Georgie Scott, Marketing Manager, DKSH Grocery Connect, Little Bellies
Previous
Next
The commerce experience platform for people who run ecommerce
Integrations for every ecommerce tech stack.
We integrate with a selection of best-in-class technology providers to ensure consistent optimized experiences across your customers' shopping journeys. Our patented implementation methods and out-of-the-box integrations ensure easy migration, risk-free deployment and fast time-to-market. So, whichever platform you're on or technology stack you use, we've got you covered.
Related Content