Inspire shoppers, fans and advocates at every touchpoint with authentic content that's proven to perform
Easily discover, curate, rights manage, and display visual user-generated content (UGC) across your online experiences—from websites and emails to social media, ads, and more.

Our Visual UGC solution can help you build more authentic and relevant content experiences that drive discovery, boost sales, and grow customer loyalty at every stage of the customer journey.
Create more authentic and personalized experiences
that win customers for life
Deliver authentic experiences at scale
Leverage authentic, trusted, and influential UGC across all your digital experiences to improve performance and provide more relevant experiences to customers at the scale and speed ecommerce demands.
Reduce
content costs
Save time and money on the content you need to fuel all your marketing activities by curating the engaging, diverse, and freely available visuals your happy customers create about your brand online every day.
Grow loyalty &
asset libraries
Easily find, engage, and reward your best brand advocates to build loyal communities and rich libraries of authentic, high-quality content that delivers real ROI across all your customer touchpoints.
Access a constant stream of authentic visuals
Need a high volume and variety of visuals to support all your marketing activities? Our Visual UGC solution, powered by Stackla, offers the most comprehensive content discovery tools, enabling you tap into the endless stream of authentic visuals your customers create online everyday.
Source content from 25+ social networks, more than any other platform.
Aggregate content using keywords, hashtags, geolocation page, profile, direct upload, and more.
Filter content streams and quickly identify relevant content with our powerful automation rules engine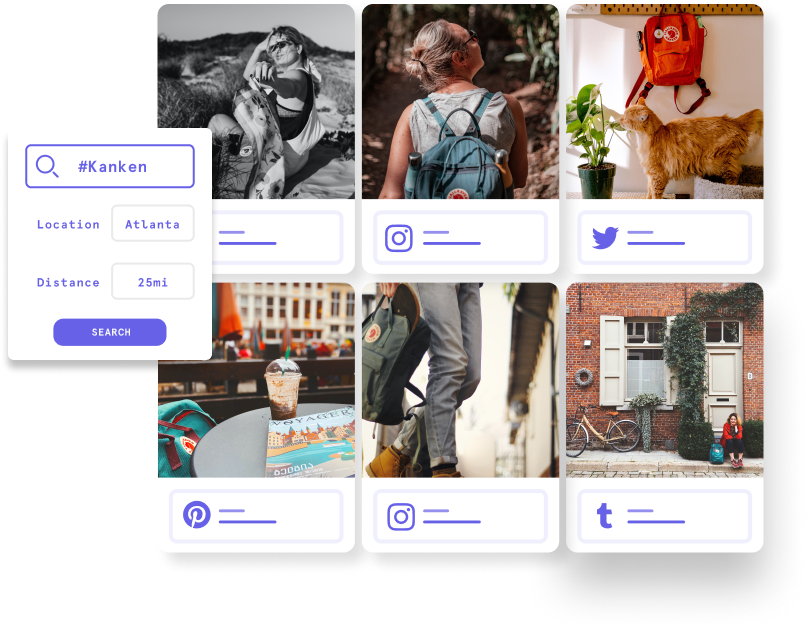 Identify and curate the best content from every social network
Make efficient and scalable content choices with the help of the most sophisticated smart curation platform.
Leverage visual recognition technology to identify and auto-tag over 11,000 objects, scenes, events, emotions, and brands in UGC visuals.
Spend less time moderating content using AI-powered curation so you select from only the best, most relevant content.
Rely on predictive recommendations from our machine learning engine, Co-Pilot, to help spot which content will best engage audiences.
Request and manage UGC rights on any network
Offering the most robust rights management workflows of any UGC platform, we make it easy for you to request and obtain the rights to customer content on any social network.
Turn earned media into owned assets at scale by using our batch rights tool to send dozens of requests with a single click.
Request rights by response, letting users provide permissions with the ease of a hashtag.
Request rights by registration, offering a customizable form for you to obtain permissions and capture valuable user data.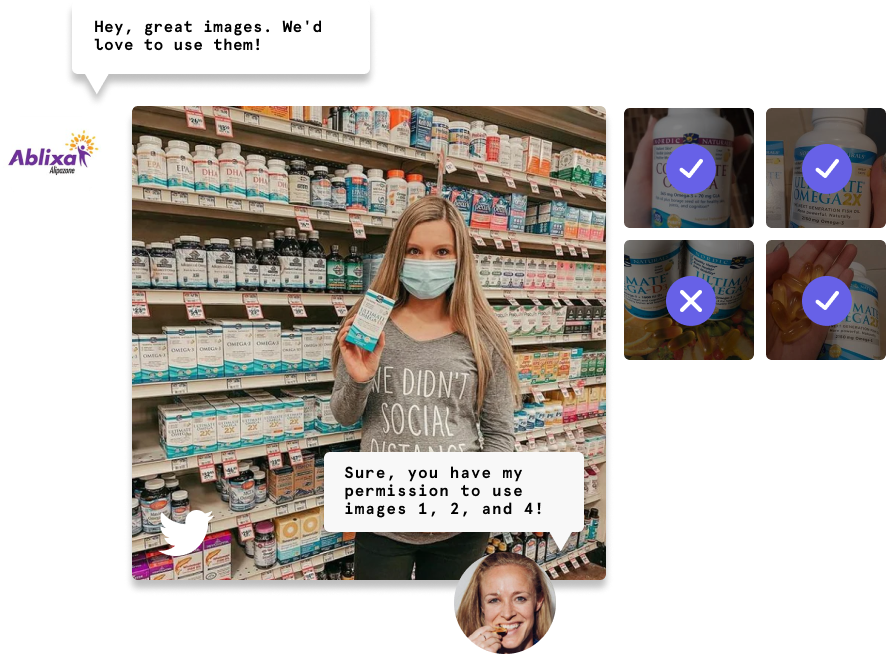 Centralize and organize your growing visual library
Built for high-velocity digital marketing teams, our nimble Asset Manager centralizes all your owned, paid, and earned content into a single, dynamic platform so the right content, with the right permissions, is available to the right people at the right time.
Quickly search and sort content with custom taxonomies, rich metadata, and smart tools that put the best visuals at your fingertips.
Create visual collections to help organize assets and manage user permissions.
Easily edit assets with intuitive cropping, filtering, and overlay capabilities that quickly turn earned visuals into production-ready assets.
Showcase and personalize engaging visuals everywhere your customers are
Fuel fully integrated marketing programs and personalized experiences with the only UGC platform that supports true multi-channel marketing, A/B testing, scheduling, and segmentation of UGC across your ecommerce site based on behavioral traits like brand or category affinity.
Display real-time content with dynamic UGC displays across ads, websites, emails, social, commerce, live events, and more.
Automatically sync UGC with your product catalog in Nosto to quickly and easily create authentic and shoppable visual galleries across all your key ecommerce pages.
Customize where and how your visuals are displayed with our comprehensive suite of APIs and developer tools.
Optimize content performance with AI technology
Continually publish better content with less effort using our machine learning engine, Co-Pilot, to provide actionable content recommendations in real time.
Reduce content moderation time with Co-Pilot's deep learning algorithms.
Improve the performance of your visual assets with predictive content recommendations.
Make more timely and informed decisions around which content to publish, tag, or request rights for and which to discard.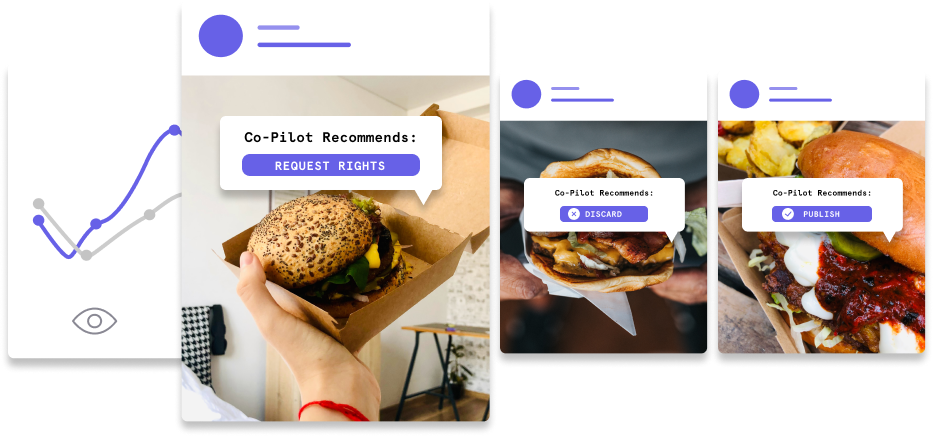 We've found that not only are people creating content about the products they like, but they're making purchasing decisions based on other peoples' UGC. I don't think we'd be able to be as personalized or authentic without these UGC capabilities.
Sabine Schwirtz, (Former) Community Manager, Lush Cosmetics North America
Previous
Next