Search
Improve product discovery with powerful and personalized ecommerce site search
Deploy hyper-relevant ecommerce site search onto your online store to increase product discovery, customer engagement, and online revenue
Increase relevancy and product discovery with powerful search
Unlock your online store's performance by creating hyper-relevant shopping experiences with AI-powered site search designed specifically for ecommerce. Powered by natural language processing (NLP) algorithms that endlessly self-learn and adjust (synonyms, spell check, autocomplete), Nosto's Search supports 30+ languages.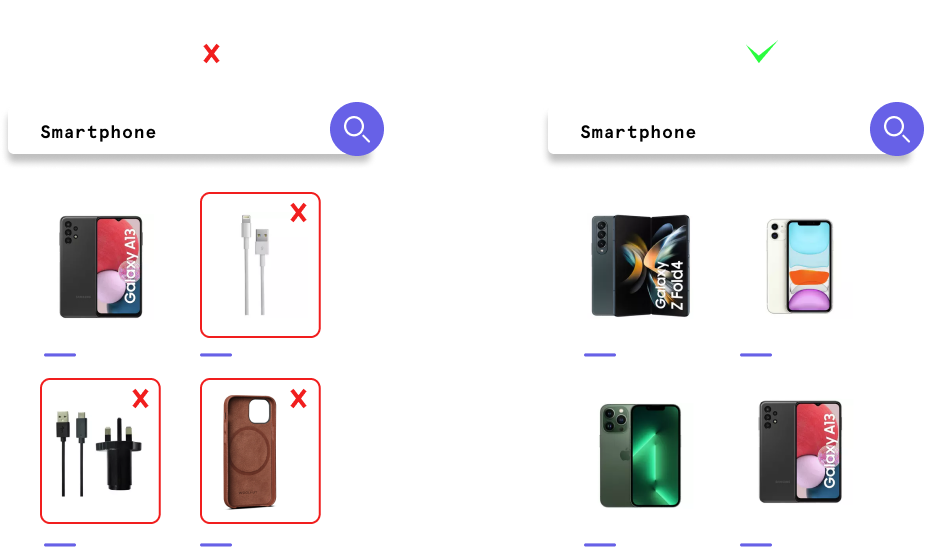 Fully customizable ecommerce search out-of-the-box
Take advantage of a rich and sophisticated feature set built specifically for ecommerce that combines NLP, deep learning, and automation—implemented in weeks not months. Dynamic facets and filters, intelligent autocomplete and fully customizable search UIs are ready to go in days. Use our data processing algorithms to clean your product data and increase time-to-value so you can go live quickly with fast, relevant site search.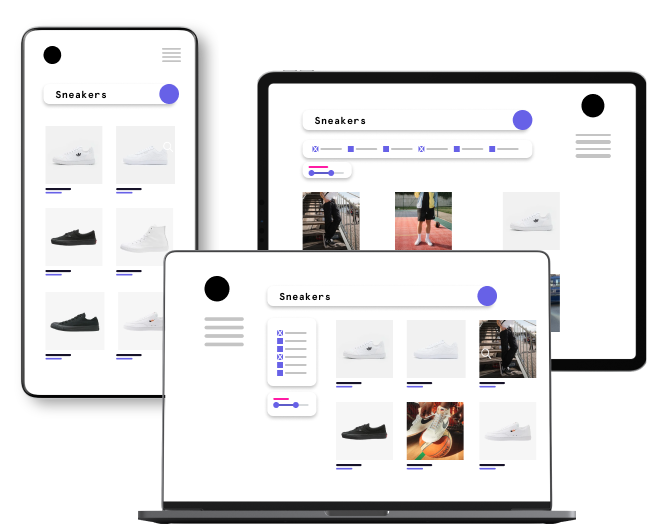 Personalize and optimize search results rankings with smart 'searchandising'
Take control and deliver merchandized search results for 1:1 personalization. By using smart 'searchandising', you can ensure results are relevant, but also highlight the things you want users to see and act upon, such as trending products, seasonal items, and related products with higher profit margins. Leverage global merchandising rules as well as specific query rules, with the ability to A/B test both, to tweak and optimize search relevance for increased conversion rates.
Coming Soon: Pave the path to purchase by showing content in search results
Relevant content is proven to drive education, awareness, and sales. Showing relevant content alongside product paves the path to purchase and builds trust and affinity with customers. Use Nosto's Search to display a variety of content types such as articles, FAQs, 'best of' pages and collection pages that are displayed directly in the results–even with autocomplete functionality.
Actionable insights and analytics in a single CXP for complete personalization
A single platform bringing together data and segments from Search, Product Recommendations, Content Personalization, and more for full funnel personalization. Build new, actionable segments to uncover opportunities for revenue growth and continually optimize the onsite search experience through intelligent A/B testing capability. Enriching other areas of the commerce experience with search data (such as trending queries) gives you powerful insights to further boost revenue per visitor.
Empower product discovery with
powerful ecommerce site search
Error tolerance
Robust spell-check to understand and autocorrect complex typos, helping shoppers find the right product and maximize conversions.
Rich autocomplete
Smart query suggestions to generate keywords from product data and make conversion-optimized recommendations.
Contextual facets and filters
Aid product discovery with dynamic facets and filters for search results and category pages to improve UX and serve relevant products.
Relevant matching
Provide a relevant search experience, even if a query is found in many different fields, via NLP based on relevant matching for any e-commerce vertical.
Automated synonym detection
Predictive algorithms automatically identify and recommend relevant synonyms using behavioral data, eliminating guesswork and manual effort.
Enriched data & advanced reporting
Enriched data and reporting means you can catch trending products early and react fast, allowing you to optimize and increase revenue per visitor.
Integrations for every ecommerce tech stack.
We integrate with a selection of best-in-class technology providers to ensure consistent optimized experiences across your customers' shopping journeys. Our patented implementation methods and out-of-the-box integrations ensure easy migration, risk-free deployment and fast time-to-market. So, whichever platform you're on or technology stack you use, we've got you covered.