We're proud to announce the release of our new Segmentation & Insights and Onsite Content Personalization offering! In this post, we'll explore how these products completely transform the shopping experience for every single customer. But first, a quick walk through Nosto's personalization journey to explain why we've launched these products…
Contact us for more information
When we first launched Nosto it was to enable any online retailer to deliver their customers personalized experiences at scale by recommending the most relevant products across their online store.
As we evolved, our customers wanted to use the same data that was powering the online personalization across other marketing channels. As a result, we launched our Personalized Email offering; then APIs to enable Mobile and Offline personalization; then a global partnership with Facebook to power personalized Facebook Ads. Our vision all this time has been to "Personalize the World of Commerce".
Driving all of these personalized experiences is our AI-powered Ecommerce Intelligence Engine which we've invested heavily in over the past 7 years. Built by a team of PhDs and Data Scientists and using state-of-the-art machine learning algorithms, our Engine has been trained across thousands of online stores and billions of shopping journeys – optimized only for online retail. Through that we've been able to gather deep insights into an online retailer's store and use that data to predict and automatically deliver the most relevant experiences in real time to drive business growth.
Now, unsurprisingly, we've had increasing demand from our clients to give them access to all the valuable data gathered by our Engine. They've seen the impact it's had on their store performance; now they want to see what more could be done with it…
We're delighted to announce that we're doing exactly that with the release of our Segmentation and Insights offering!
Segmentation & Insights: How does it work?
For the first time, with Insights we are surfacing the real-time behavioral and transactional data that powers our AI. The goal? To guide your business strategy by enabling you to get a deeper understanding of every shopper that comes to their store and how they are interacting with their products.
With these Insights, you'll now be able to understand things like:
Which category or brands are driving the most revenue per visit
What are the most popular products within a specific customer segment
What day of the week different types of shoppers convert best to determine when and where you should invest more in your email or paid advertising strategy.
Crucially, you'll also be able to identify new opportunities for growth that have likely been hidden until now. For example, by identifying categories that have high conversion rates or AOV but not much traffic, you can then increase the visibility of those categories onsite to immediately drive more revenue – or even create lookalike audiences to acquire more of those high-value but low number customers.
But this isn't simply about exposing data. At Nosto, actionability has been a hallmark of our product from day 1…
Which is why alongside our Insights offering, we're also releasing Segmentation, allowing you to immediately and automatically action those insights across Nosto's entire product offering.
Using our new Segmentation offering, we now enable merchants to map out customer journeys and target shoppers based on their behavioural preferences and position in the buying funnel.
For example, you can now automatically differentiate between what is shown to a first time visitor versus a loyal or VIP customer – between those visitors from a specific part of the world or those with specific brand affinities.
What makes Segmentation so powerful?
These segments aren't limited to transactional data that retailers typically rely on in creating segments, but rather include the wealth of behavioral data that our Intelligence Engine gathers on every visitor. This allows us to update the segments in real time based on a shopper's moment-by-moment interactions with your store. So if a user moves from research mode to purchase mode within the same shopping session, our AI recognizes that immediately and automatically reflects it in what the shopper sees.
This has huge implications.
Our research from data over the past 7 years has shown that transactional data only accounts for 1.6% of the data captured in an online store.
By ignoring the other 98+% you're missing out on hugely valuable signals on your visitors.
What we noticed from our research when building these products is that even when retailers are tracking onsite browsing behavior, that data typically becomes available and actionable only at the end of the browsing session. By which point, it is already too late to affect the journey because the shopper has already left the store. In comparison, Nosto's AI is tracking browsing behavior in real-time and updating the pages that the shopper sees during that same session to deliver the most relevant shopping experience possible.
One thing that is completely new in the industry…
Instead of assuming that every store shares the same type of shopping funnel and segmenting according to that, our AI gathers the data on how users interact with each specific store and then extracts a personalized funnel unique to that store. We then use this data to define much more precisely where shoppers are in your particular funnel and personalize according to that.
From first-time visitors all the way to loyal customers, each segment has a specific set of characteristics and rules which can be leveraged to move shoppers down the funnel. For example, retailers typically identify shoppers who have provided their email address or added something to their shopping cart as being close to purchase. However, our Intelligence Engine has identified that these factors do not always correlate directly to purchase intent. Instead, we leverage behavioral data to infer positions in the funnel to significantly improve targeting. We then provide retailers with various methods – such as ads or pop-ups – to automatically encourage shoppers to progress through the funnel.
Just some of the things we've been able to do with automated segments are:
Reduce the need for discount coupons by better identifying the prospects who don't need an incentive to purchase.
Predict brand and category affinities based on onsite browsing behavior and then use that data to target shoppers with improved messaging and/or merchandising strategy.
Display shipping information to prospects who are close to purchasing but are still deliberating the practicalities of the order. Meanwhile, shoppers who are not that far along in the lifecycle will not be bothered with shipping information until it becomes relevant to them.
Traditionally, creating segments like these is complicated. You need to gather the data from a BI or analytics tool, then import into your CMS, email platform or other third party tool you want to use them in. And by the time you've done that, it's often too late to influence the journey.
As part of our commitment to ease of use and real-time actionability, we have actually revamped our entire UI alongside these product updates to give you the power to create dynamic segments like these in a matter of seconds – all from within the same Nosto platform.
You can create segments based on your different buyer personas or any of the Insights we reveal and then create custom journeys unique to those segments. To get up and running immediately, we've generated a series of AI-based automated segments that you can use out the box to start differentiating your experiences from day 1.
These Segments are not limited to the onsite experience either. You can use them to:
Adjust your Facebook Ads and Google Adwords campaigns to reflect buyer profiles or where shoppers are in your sales funnel, allowing you to be far more targeted in your ad campaigns
Create bespoke mobile experiences specific to each segment
Dynamically change the content within emails when the email is opened to maximize click-through rate.
Create full, dynamic landing pages to increase the conversion rate from third party traffic sources.
Finally, in order to deliver a truly personalized brand experience, we know that retailers need to go beyond products and look at the brand experience as a whole – and a key part of that is Content.
We all know that content plays a major role in commerce. It's a way to connect more deeply with your customers and build more memorable brand experiences. And if truth be told, we've been wanting to do something here for a long time but we wanted to take the time to get it right…
Introducing Content Personalization
In order to crown our product launches, we're launching our Onsite Content Personalization product, which enables you to go beyond product recommendations and personalize the content you display across your store.
How does Content Personalization work?
This release isn't simply about onsite banners. With our new Content Personalization offering we're enabling retailers to tailor the entire store experience: from the navigation bar, to banner imagery, brand logos, blog posts and videos.
Here's an example of a sporting goods store. As you can see, they have a wide range of products – from fitness gear to outdoor trekking – and very different types of customer:
Let's analyze the experiences of two completely different customers: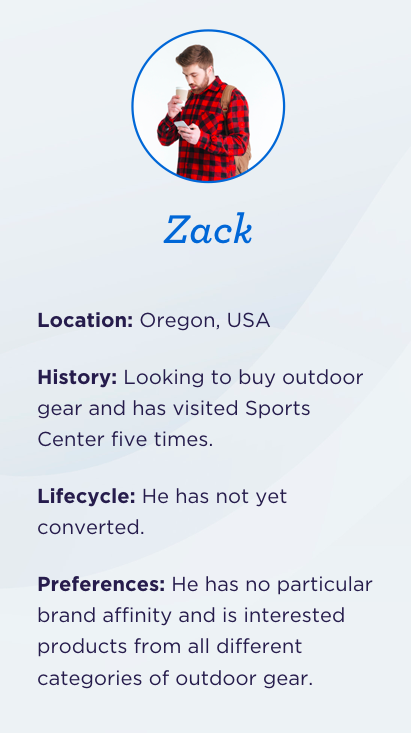 On the one hand there is Zoe, a yoga fan from California, who only shops for yoga related items on the store. Then there is Zack from Oregon who is into trekking and other outdoor sports.
With Nosto's new Content Personalization offering you can now leverage all the data we collect on these individuals to automatically transform the way they experience your store.
One store, two entirely unique shopping experiences
The navigation bar has been changed to give priority to those categories with higher affinity (yoga vs hiking)
Banner imagery and logos immediately speak to their brand interests
Product recommendations show them what's trending in the relevant categories
Videos and blog posts showcase the most engaging content possible.
The result? 2 entirely different store experiences for 2 entirely different types of customers.
Segmentation & Insights and Onsite Content Personalization: Shifting the way retailers personalize at scale
Our new offering marks a major shift in the way retailers will deliver personalization at scale and this is just the beginning. We have ton of other exciting developments underway at the moment, so you can expect some other exciting announcements later this year and next!
Stay tuned for our 3-part blog series where we explore different use cases to display these products in action. Plus, meet brands who are leveraging them to transform both the shopping experience and their business revenue!
Want to learn how you can use behavioral data to transform how shoppers interact with your brand? Get in touch with us today for a free demo and start delivering these unique experiences to each of your customers!
And you can also now access the full recording of our live release webinar, hosted on September 5th: