A product recommendation strategy is the backbone of any personalized ecommerce experience – and often a starting point for retailers who want to deliver more relevant interactions to their customers.
What some brands don't know is that product recommendations are not a binary experience. There are a number of factors that go into the quality and impact of a product recommendation strategy: from where these recommendations are placed on your site, to the types of products they display based on customer data, right down to design and content that makes them stand out.
Ready to create the ultimate product recommendation strategy? Use these best practices to help increase revenue, relevance and convenience for each visitor – plus use our handy checklists to ensure you're getting the most out of your efforts once you're ready to get started.
The Ultimate Product Recommendation Strategy:
1. Why (and Where) Product Recommendation Placement Matters
Where you place your product recommendations on your website or external channels is just as important as using them.
From the homepage down to the checkout process and email marketing, there are a number of site pages where product recommendations can improve the shopping experience. It all comes down to where it makes most sense for your audience.
Here are some examples of where on your site you can place product recommendations:
On the Homepage
The welcoming experience provided by the homepage is the key to capturing attention and should be relevant to the different shoppers, channels and entry points to the site.
For new visitors, you may not have enough (or any) behavioral data to populate a personalized offering. Best practices for product recommendations call for highlighting items with the highest conversion rates (i.e. top sellers).
LeSportsac displays best-seller recommendations as 'Fan Favorites' on their homepage. This has contributed to a 2.4x increase in online conversion:
Le Tanneur displays best-seller recommendations divided by category: women's, men's or accessories, in order to help shoppers see what people are mostly buying from them. This has contributed to a 13 X ROI YoY, based on incremental revenue generated by recommendations
On the Product page
Shoppers who land on a product page are still searching, so while they browse, offer relevant alternatives and complementary products based on what they've already browsed (otherwise known as cross-selling and up-selling).
Industry West encourages visitors to continue browsing after viewing a particular product. This tactic contributes to the brand's 15% increase in average order value:
On the Search page
The ideal search page incorporates product recommendations based on what other customers have searched, viewed and purchased. In addition to offering recommendations, shoppers should be able to find products even if they've misspelled the search term.
For example, with Caliroots' search engine, an in-store search with the keyword "Mike" presents skateboards done in collaboration with Kodak Mike Carroll and Kodak Mikemo. Additinally, the behavioral "Search and Viewed" recommendation element below the actual search results reveals that users who searched for "Mike" also viewed "Nike" sneakers:
Bonus tip: To make it easier for customers to interact with search page recommendations, they should be displayed above the fold.
On the Category page
Category pages are one of the most important drivers of discovery in an online store. In fact, 70% of online sales originate from category pages. These pages expose the most relevant products for the shopper on a dedicated page, giving the them the opportunity to narrow down to a particular subcategory to find exactly what they are looking for.
Fashion brand Augustine showcases a top-level category for bottoms, (skirts, shorts, pants etc), and a similar setup of Browsing History related recommendations that contain a fallback to Best Seller recommendations for first-time visitors:
On the 404 Page
Instead of redirecting to other pages on the site or simply slapping an error message on the page and calling it a day, turn the 404 page an opportunity. Use error pages to display:
Best sellers (to promote the products that are most likely to increase conversion)
Browsing history (to display items based on the customer's product breadcrumb trail)
Items related to their browsing history (to expand on said breadcrumb trail)
Items similar to the ones your customer is interested in.
Finisterre displays best seller recommendations on the 404 page which is a beneficial engagement tactic when a shopper visits your site from an expired link:
In Pop-ups
In addition to offering time-limited discounts or encouraging email capture to allow for further marketing, pop-ups can also be used to display personalized product recommendations that help convert indecisive shoppers. Pop-up recommendations also allow the customer to discover relevant items without disrupting the shopping journey.
The WOD Life also use abandoned cart popups to re-engage visitors when they return to the site. A popup "Pick up where you left off" shows the products left in cart to remind customers of their last site visit.
OKA Direct showcases product recommendations in an overlay pop-up that appears when a customer has added something to their cart. Instead of using the space to display a confirmation message, they leverage the opportunity to increase order value by recommending complementary items:
On the shopping cart page
Cart is the moment of truth but also an upselling opportunity. At the cart stage, personalized product recommendations play a crucial role in increasing Average Order Value (AOV) but without having a negative impact on conversion.
To increase visit and order value, Le Tanneur implemented recommendations that showcase items often bought with the items currently in a shopper's cart on the cart page.
Looking for more pop-up inspiration? Check out these 9 examples of awesome ecommerce pop-up campaigns.
Via email campaigns
Product recommendations are not only useful for an ecommerce website. By implementing recommendations into your email campaigns, you can nurture shoppers towards purchase. remind hesitant shoppers of abandoned products, and foster loyalty with personalized post-purchase offers.
Woodhouse Clothing's "welcome email" series displays recommendations designed to surface new products to customers based on their first visit to the site. Additionally, the brand's retargeting email campaigns (such as cart abandonment and site exit) include recommendations relevant to what was viewed or left in the cart. The brand's personalized email strategy has contributed to a 44% increase in conversion::
Product Recommendation Placement Checklist
To make optimal use of product recommendations, it's important to review every area of your website (as well as channels that drive traffic to your website) where a recommendation can be displayed in order to increase conversion. This includes:
The Homepage
Product pages
Search pages
Category pages
Shopping cart page
404 pages
In Pop-ups
Via email campaigns
Interested in discovering additional product recommendation tactics?Browse through these 40 product recommendation examples you can use across your website and in your email marketing strategy.
2. Ecommerce Segmentation: Geographical, Source and Affinity Segments
Ecommerce segmentation allows ecommerce brands to target the right shoppers with the right products and messaging. Today's most successful retailers use some form of segmentation to impact performance – and there are a number of ways to segment your customers to offer the most relevant recommendations.
Segment by geo-location
There are many benefits to leveraging geo-location to offer a more personalized shopping experience. One particular benefit of creating segments of shoppers based on specific geo-locations (for example, a segment for new visitors from North America who've never purchased from you) is that you can make it easier for first-time visitors and potential customers to understand their shipping options when viewing products to drive them closer to purchase.
Segment by source
By understanding where your traffic is coming from, you can personalize your store's homepage to display content and recommendations that your shoppers are most interested in seeing based on where they came from. This can be done by creating a segment of users that visit your site via a specific UTM campaign.
Woodhouse Clothing displays custom homepage banners for their segment of shoppers who enter their website via an email newsletter promoting discounted products:
Segment by affinity
From targeting shoppers with a specific interest in a product brand to targeting customers with a specific discount, creating segments based on specific shopping affinities not only helps increase conversion on certain product groups, but can also help you sell through excess stock, prioritize the sale of a specific brand, and more.
For example, a discount affinity segment looks into behavioral patterns and targets shoppers who are more likely to purchase if they are shown:
Discounted product recommendations
Discount promotions
Sales banners
Ecommerce Segmentation Checklist
Are you making optimal use of segmentation? To make optimal recommendations test with the following segments:
Geo-location
Source Brand affinity
Category Affinity
Discount Affinity
Gender
First time visitor
Returning visitor
3. Types of Product Recommendations
From showcasing your hottest products, new inventory or suggesting products based on like-minded shoppers, there is a wide variety of product recommendations types to choose from to make the most of your strategy.
A few examples include:
Best Sellers
Showcase your top-selling inventory to first-time visitors and returning shoppers alike. For first-time visitors, these can help increase brand discovery and serve as great fallback recommendations to collect valuable behavioral data. Meanwhile returning visitors can find new products that are more relevant to their past browsing and buying behavior.
Hedley & Bennett's use of personalized homepage recommendations (like the Best Sellers shown below) has contributed to a 10% increase in revenue:
Previously Viewed/You May Also Like
These recommendations showcase products a shopper has already interacted with, helping to keep them top of mind if they are still indecisive about purchasing (or have simply forgotten about them).
On LeSportsac's cart page, the brand also shows personalized recommendations to remind customers of the items they had expressed interested in, but had not yet added to their cart:
"Customers Also Bought"
Leveraging the power of persuasion (which we'll cover in the next section), these recommendations leverage behavioral data from like-minded shoppers to promote additional products they'll likely also be interested in.
In the below example from Grenade, the shopper can even select color and size for new recommendations without ever having to leave the cart page:
"Complete the Look"
Some things in life just go togethe, so offer product bundles that are can be used in conjunction with the currently viewed product – whether it's a matching hat to complement a tshirt or a product that belongs to a larger collection of items.
Product Recommendation Type Checklist
Are you making optimal use of different types of product recommendations? To make optimal recommendations test with the following types:
Best Sellers
Recently Viewed
Add-ons
Similar products
Up-sell recommendations
Cross-sell recommendations
Post-purchase cross-sell
Post-purchase up-sell
"Complete the Look"
"Frequently Bought Together"
"Customers Also Bought"
4. The Power of Persuasion: Using Visual Cues and Buzzwords in Your Product Recommendation Strategy
Persuasion is a key driver in the psychology of ecommerce shopping. For ecommerce retailers looking to attract and convert more shoppers with product recommendations, this is a critical best practice.
Visual cues – like user-generated photography, product ratings and discounts – build an emotional connection between the shoppers and the brand and products. This is because:
Consumers trust other consumers. In fact, 88% of them turn to their peers for recommendations before committing to a purchase.
It helps brands connect with new shoppers. Brands can leverage content and reviews from their own customers in their product recommendations to easily build rapport with new ones.
Puravida includes recommendations on their search page which also display product ratings to drive more engagement: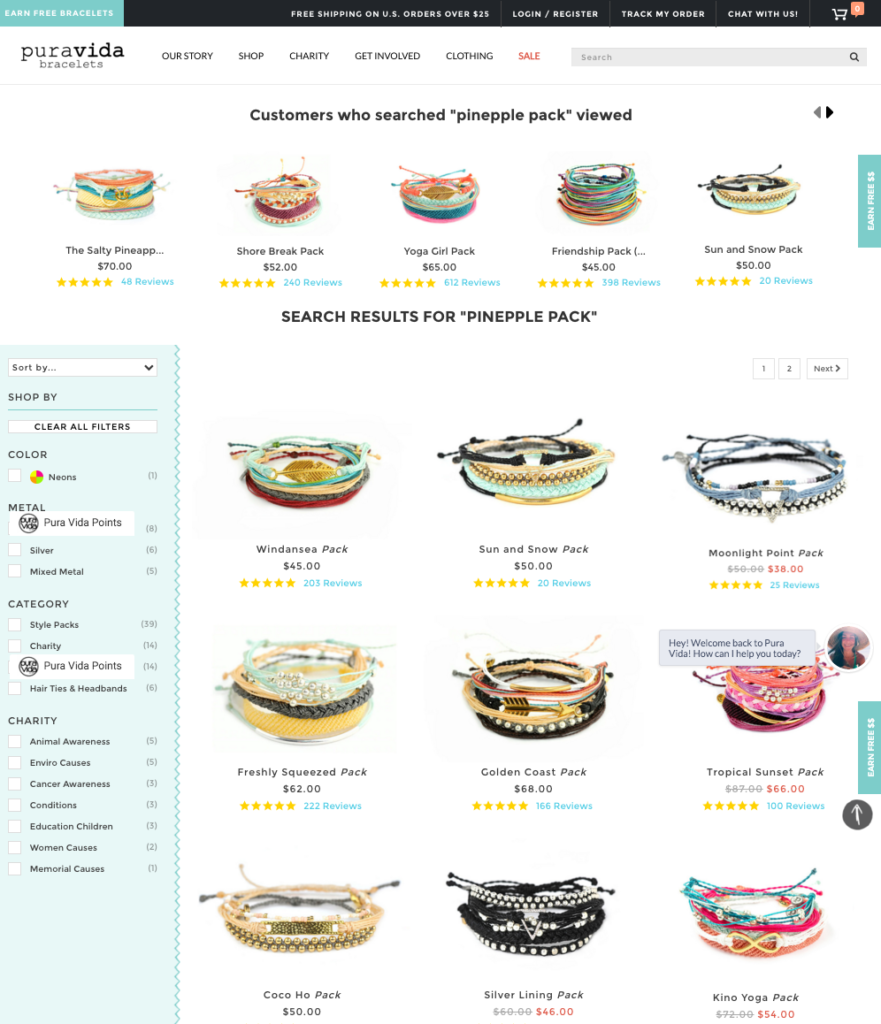 Product Recommendation Persuasion Checklist
Are you making optimal use of persuasive headlines and images in your product recommendations? Test them by applying any of the following visual cues or buzzwords (that most apply to your business) to your recommendation headlines:
Visual cues:
Product ratings
Discounts
User-generated images
Recommendation Headline Buzzwords/Phrases:
Save
New
Exclusive
Collaboration
Award
Organic
Vegan
Don't miss out!
Best selling items this week
Top-Rated
You might also like
Fan Favorites
Community Pick
"Typically Bought With"
"Others who Searched for…"
Don't Forget
6. Design Tips for Product Recommendations
Recommending products to a shopper is one thing; how you display these products is just as important for product discovery and conversion.
Remember: Don't forget the mobile experience. Many shoppers on the go turn to mobile as their browsing device of choice, so you'll need to make sure your product images are well optimized. Tucker NYC's homepage (as seen on a mobile device) highlights best sellers using crisp vertical images:
Desktop screen sizes 11" and large leave a bit more room for creative freedom. In the below example from , the mouse on-hover action adds more inspiration and interaction to their product recommendations:
Recommendation Design Checklist
Design is an integral part of a successful product recommendation strategy. When deploying product recommendations, consider these tactics:
Incorporate catchy titles that drive urgency (as explained in the section prior)
Optimize images for mobile browsing
Enable recommendation hover effect (for desktop screens 11" and larger)
Want more design inspiration? Want more design inspiration? Explore how to take product recommendations to the next level using compelling design.
7. A/B Testing Your Product Recommendation Strategy
Testing is a useful way of determining how variations of personalized elements and experiences on your website impact performance. From the placement of a product recommendation on your website, to titles for recommendations or even multiple designs, there are a number of ways you can A/B test your product recommendation strategy to yield the best results.
Here are a few examples of how this can be done:
Testing price anchoring
The goal of up-selling is to convince shoppers to purchase a slightly more expensive product than the one they're currently viewing.
In this example, Costo plays with a price anchoring strategy to determine which product recommendations drive more order value. In one of three test variations, price range settings were applied to limit the recommendations to products in the same price range:
Testing design
Gymshark showcases a single product, giving the recommendation the most possible on-screen real estate, while alluding to a carousel of other recommendations with just a flick of a finger:
On mobile, Atkin & Thyme showcases two full recommendations at a time and alludes to more recommendations with the inclusion of pagination indicators:
Testing recommendation placement
Ask yourself: What is your primary goal for product recommendations? For example, if it's to achieve up-sells over cross-sells, then it makes sense to position the more expensive alternative products above supplementary add-ons (as seen on Asos' site):
A/B Testing Checklist
When testing product recommendation experiences on your site, remember the following test variations:
Placement
Price anchoring
Design
Titles
Homepage banner
Recommendation priority
The number of recommendations shown
Product recommendation algorithms
Page narrative flow
Cross-selling strategy
Up-selling strategy
Learn more: Discover 10 onsite experiences you can easily A/B test to optimize site performance.
8. Best Practices for Your Product Recommendation Strategy, Summarized
Deliver personalized product recommendations. 75% of digital-savvy customers expect a personalized shopping experience. Don't let these shoppers down.
Product recommendation placement matters. Maximize the use of product recommendations by incorporating them throughout relevant sections of your site.
Segment your audience to deliver the most relevant content at the right time and place. From geo-location to brand loyalty, creating specific audience segments allows you to dive deeper into personalization and exclusively showcase products that will drive more conversion.
Persuasion drives action. Use eye-catching buzzwords and FOMO messaging to create urgency and convince shoppers that they need to take immediate action.
Design is a subtle – but strong – part of a successful strategy. Create captivating titles for product recommendations to attract attention and drive action.
For more inspiration and 1:1 guidance to get started, contact your Customer Success Manager.
Not a Nosto customer? To discover first-hand how you can build the ideal personalization strategy that meets your specific business goals, request a demo with one of our ecommerce experts.