What is a micro-influencer, and why should you choose to go in this direction with your influencer marketing strategy? In this blog, we'll dig into who micro-influencers are, why they can be an effective strategy for your brand and give you a step-by-step guide on leveraging them for your content marketing.
Micro-Influencer Marketing Strategy:
Why brands are moving to micro-influencers (and why you should, too)
These days, influencer marketing is tainted with its share of cynicism, and because of that, it will never be the foolproof, not-so-secret weapon that marketers want it to be.
For example, the Fyre Festival's influencer-centric flop revealed the smokescreen nature of staged, sponsored content. Or, the SoHo Instagram influencer penthouse, which proved that large-scale influencers don't need a persona to prove themselves worthy of a brand partnership (they just need a high follower count).
The point: Influencer marketing is everywhere, but it's difficult for consumers to trust it as an authentic recommendation. People are tired of being unable to rely on what they see and hear. But when 40 percent of the world's population is tuned into social media—roughly over 3 billion people—it's hard to overlook the ads and sponsored content we see as we scroll.
So how are consumers actually interacting with influencer content? Instead, they are looking past influencers and turning to micro-influencers: the smaller-scale, more authentic brand advocates that consumers can trust.
What are micro-influencers and why should you leverage them?
First off, what is the definition of a micro-influencer?
Micro-influencers are everyday people with modest social media followings of about 1K-5K followers. Brands are increasingly turning to these influencer groups because they are more authentic and relatable to consumers, garnering much higher engagement than their traditional influencer counterparts, who have more significant follower counts. In addition, because they are up-and-coming influencers with niche audiences (rather than celebrities living unattainable lifestyles), micro-influencers have a more genuine connection with smaller yet more highly engaged audiences—meaning their endorsement carries more weight with consumers.
Plus, they tend to be more accessible and cheaper for brands to work with. Unlike traditional macro-influencers, micro-influencers aren't usually looking for significant direct payments from brands. Instead, they are often happy to have a free product sample, early access to new products, or simply the exposure a brand can provide them by sharing the content they create. As a result, your brand is helping them grow their followings, and they're helping you make high-quality social proof: win, win.
Authenticity is most influential
According to a recent Stackla study, celebrities and social influencers have a waning impact on people's purchasing decisions—only 9 percent say influencer content highly impacts their purchases. Instead, when making purchasing decisions, customers look to authentic user-generated content (UGC), like content created by micro-influencers and brand advocates; 79 percent of people say user-generated content highly impacts their purchasing decisions.
Treating the people who love to create content about your brand as content creators is important to establish deep connections with true advocates. Also, working with micro-influencers who have a personal connection to the industry is an excellent strategy for brands looking to foster community.
Partnership with a micro-influencer is a win-win situation—the brand wins eyeballs, and the micro-influencer wins more validity. Studies have shown that micro-influencer content is 6.7x more efficient at engaging audiences than more prominent influencers. Plus, influencers with 1K followers generated 85 percent higher engagement than those with 100K followers. As the number of followers increases, engagement tends to decrease. When the medium is more accessible, the message makes a more significant difference.
Brands like LUSH Cosmetics, H&M, and Glossier employ a robust micro-influencer strategy that drives results.
Examples of brand micro-influencer campaigns
LUSH Cosmetics
Lush Cosmetics partners with micro-influencers on a hyper micro level.
By treating their natural brand advocates as influencers, Lush nurtures an organic set of micro-influencers that simultaneously elevate Lush and their brands with content that resonates with their audiences.
"The influencers we work with are posting something because they love something. I think our audiences can see the difference," says Sabine Schwirtz, Former Community Manager at Lush.
Getting real is an essential part of the micro-influencer equation—plus, it saves time and money that would typically be spent creating or curating content that's not as authentic. As Schwirtz says, "A micro-micro influencer might have posted one photo in a face mask, so we include them in our ambassador program, #FirstLookLushies, which gives them further information about the brand, and in turn, they create more UGC."
By establishing relationships with the #FirstLookLushies, Lush encourages organic brand advocacy while re-publishing authentic content across the brand's channels.
H&M
H&M launched a Q&A-style blog, Itsapark, to serve as a place for style tips, inspiration, and feel-good fashion support.
After noticing shifts in the marketing landscape in its annual report for 2018, H&M said, "Changing consumer behavior and technological innovation will continue to transform how and when people shop."
By leveraging the videos, images, and posts uploaded by micro-influencers in the fashion space, Itsapark creates an inclusive community that encourages community members to mingle and shop with each other. With "Buy Now" buttons enabled across every featured piece of content, all it takes is a click from a micro-influencer update to take a visitor from browsing to buying.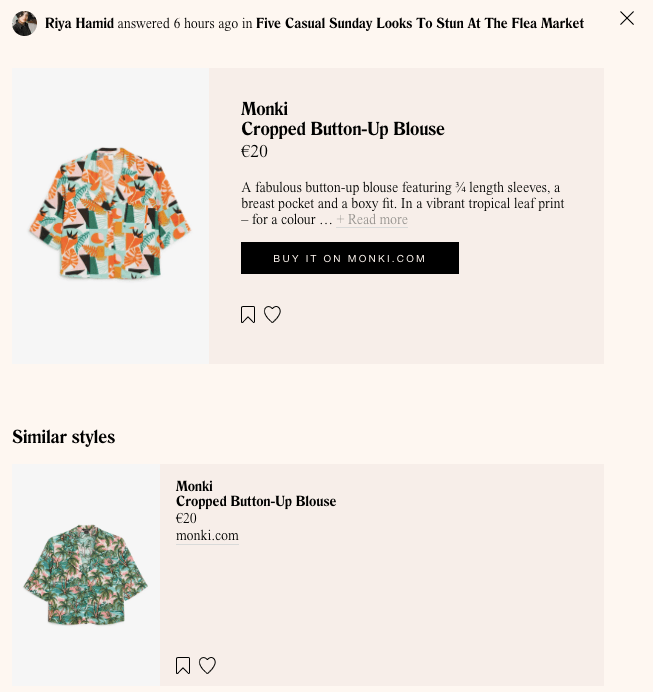 "We see this as an opportunity to develop a space where people can get honest and personalized answers to their fashion questions," a spokesperson for H&M said. "Expertise is key for all the content creators, not the number of followers in social media. In other words, Itsapark is a community-driven digital fashion guide. We don't aim to have an experience tied around the world of influencers."
Because Itsapark is looking to differentiate itself from the world of inauthentic influencer partnerships and instead leverage brand advocates with a small following in the fashion and beauty industry, the community is automatically regarded as trustworthy. And, because the content creators aren't only linking their recommendations back to H&M clothing. As a result, the site becomes a more respected authority for genuine recommendations across the fashion community (rather than another way to funnel more purchase traffic back to the site).
Glossier
It's tough to find negative headlines about beauty brand Glossier—one of the most transformative direct-to-consumer (DTC) brands on the market. What started as a blog blossomed into a household brand name and a leading marketing strategy. When the darling announced its Glossier Rep program in 2016, marketers across industries knew it would be something to watch.
Founder Emily Weiss is outspoken about the power of working with real customers to create an authentic and inclusive co-marketing strategy. Now, Glossier has proven that "nothing is more impactful than a recommendation from a friend." To prove the efficacy of the word-of-mouth model, Glossier invited the fans of the brand into what she called the Glossier "ecosystem." She launched the Glossier Gal representative program, which first launched with 11 reps—now with over 500 dedicated ambassadors.
"In a small way I am a part of the company and I get to hear about exclusive things that people outside don't get to hear about, so that's a pretty good goal," said one rep. Another agrees. "I get to feel like I'm a part of it but still feel like a consumer."
Steps to building a successful micro-influencer marketing campaign
Here is how you can take from examples and create a winning micro-influencer marketing strategy for your brand:
1. Set goals
As with any other marketing strategy, it's essential to set goals around what your team hopes to get out of leveraging micro-influencers. Working with influencers, at the end of the day, should help you move the needle on your overarching brand goals; therefore a micro-influencer marketing campaign shouldn't live separate from other marketing initiatives on its own in a silo.
Some of the primary reasons brands choose to go the micro-influencer route are:
Grow brand awareness and engagement
Expand your brand's reach by tapping relevant micro-influencers to help promote your products. You should see strong engagement as long as you've pinpointed people who have a following that matches the target audience you want to capture.
Launch a new product
People are more likely to purchase something from someone they view as a peer; 83 percent of consumers trust peer recommendations. So when a micro-influencer promotes something, it can feel like a more trustworthy "word-of-mouth" recommendation.
Micro-influencers evoke that peer element that can make a marketing campaign so successful. So, micro-influencer marketing is a superb avenue for brands to explore as a way to build excitement and host product launches.
You could have the micro-influencer you're working with doing a live stream with your product, showing how it works, posting about it in their Stories, or even have them doing an IGTV video or image in their feed. You could even have someone do fun, silly shoppable TikTok videos to make the launch more fun and engaging.
Create new content
Micro-influencers are good at creating content while keeping with the authenticity people are so hungry for, instead of the typical, over-styled posts you often get with more prominent influencers.
When incentivized with a free product or discount code, micro-influencers can be an excellent source of new content for your brand. Make sure you're direct with your content ask so that the content you get from your micro-influencers is compelling and consistent with your branding guidelines.
2. Identify KPIs to track under each goal
Once you know your goals, then you can start drilling down and getting specific about KPIs (key performance indicators) for each goal you set. Some examples are:
Brand awareness and engagement:
Grow social reach
Improve social engagement rates
Increase your brand's social following
Launching new products:
Drive product awareness/ discoverability
Build trust in new product
Create new content:
Grow high-quality visuals in the asset library
Reduce content cost
Reduce time spent on content creation
Boost online conversions
Boost online conversions
Increase average order value
Grow net new customers from social
3. Determine your team's capacity to launch and manage a micro-influencer program
Evaluate how much time and effort will go into a micro-influencer marketing strategy. Who will be the key stakeholders? How much time will be dedicated to this project each week (outreach, content management, communication, drafting creative briefs, etc.)?
Most importantly, what tools will you use to help you succeed in your micro-influencer mission? Enlist the help of a robust tool to help you do this work. Here are five capabilities every influencer technology should have:
Discover – Easily find people already talking about your brand and/or people posting about your niche topic
Connect – Streamline outreach to micro-influencers. You should be able to communicate with influencers with any tool you pick easily
Engage – Once you've been able to connect, your tool should allow you to engage with your community of micro-influencers easily. Get a solution that will enable you to create and send out creative briefs to micro-influencers, letting them know precisely the types of content you're looking for them to make.
Reward – Get a solution that enables you to reward your micro-influencers for the content they create for your brand—offer them free products, send them discount codes and give them sneak peeks of new things, product releases, etc.
Measure – You should be able to see the results that come from running micro-influencer campaigns, from likes to impressions to engagement and even conversions—all in unified dashboards.
4. Set a budget
Next, what kind of budget will you need to allocate to a micro-influencer marketing strategy? Again, knowing your goals, how you want to measure them, and the number of people involved will give you a better idea.
It might be a bit of an investment, but having a platform to streamline and optimize these processes should, in the end, help you save money while running more impactful marketing programs.
5. Find the right influencers
Once you have your basics established, think about how you will pinpoint the best individuals to be advocates for your brand.
Try locating people with growing followings who have already shared content about your brand. These will be your most authentic and relevant micro-influencers, so connect with as many of them as possible. You can find these people by searching your brand's mentions and any branded hashtags you may have—or using a micro-influencer tool (like Stackla's Organic Influencers)
6. Connect with influencers
The best way to connect with influencers is to reach out to them directly. But let's be honest, who has the time to manually reach out to large numbers of people and copy and paste the same message repeatedly?
Stackla's Organic Influencers tool helps businesses streamline their micro-influencer strategy by providing a fully customizable and centralized private community portal where micro-influencers can sign up to join your creator community.
A centralized and branded destination to send micro-influencers and passionate advocates is a powerful way to streamline influencer management and quickly grow a creator community. Inviting people to join your brand creator community is as easy as copying and pasting a link. Once on the page, people can read the brand's terms and conditions, create their login, then be met with actionable creative briefs for them to participate in.
7. Create creative briefs
Once you start signing people up to your micro-influencer program, engage them regularly, so they stay connected and excited about being a micro-influencer.
Communicate clearly and succinctly about the niche spaces your brand is an authority on, i.e., organic beauty, sustainable fashion, online sports, fitness equipment, etc. Let influencers know what your brand hashtags are, your mission, and why they are an essential part of contributing to it.
With Organic Influencers, you can even write up creative briefs and send them en masse to your influencer community. Offering a short template for brands to use, Stackla helps you simplify the micro-influencer campaign process. Brands can combine written and visual instructions to creators while providing rewards and incentives. It is an effortless way to obtain high res image files. Organic Influencers' customizable creative briefs help save you time and energy so you can focus more on developing your micro-influencer strategies.
8. Offer rewards
Rewarding your micro-influencers can deepen their level of engagement with your brand and also compel them to create more high-quality content for you.
Rewards don't always have to be cash incentives, and they don't have to be costly. Some ways to make your micro-influencers feel rewarded for being part of your creator community include:
Giving free products and samples to influencers to test out (and share the experience with their followers)
Create personalized discount and promo codes unique to each influencer so they can receive a reward each time someone purchases something with those codes
Offer sneak peeks and early access to new products before they've been made available publicly
Provide invitations to exclusive events, or even ask them to do live takeovers on your social channels
9. Measure results
Hopefully, you've been tracking the KPIs for the goals you set before you launched your influencer marketing program. How are you doing towards those goals; what's the ROI of your micro-influencer campaigns?
If you're not hitting your goals, it might be time to take a step back and evaluate what's working and what's not. Then, make adjustments, track your progress, and continue to measure return on investment.
Conclusion
Micro-influencers are both consumers and creators, and in their duality, they become trustworthy sources of recommendation for other consumers. Therefore, brands looking to leverage user-generated content in their marketing strategies can look to micro-influencers as a starting point.
Like any new program your brand launches, a micro-influencer marketing strategy takes planning and organization. Follow this guide and harness the proper tool to manage a micro-influencer marketing strategy. You will see the difference that involving passionate advocates of your brand makes to your business.
Interested in using Stackla's Organic Influencers feature as part of your influencer marketing strategy? Fill out a demo below.